Details:Rescue:
Star was at llanybydder horse sales on 26th June 2008 and was causing problems where police officers had to intervene. A verbal agreement was made between Gordon [his owner] and us [Caz & Amy] at the sales that we were to take Star home, geld him and then brake and school him so he could be sold on to cover our costs and then split any profits between myself and Gordon. Gordon and his son then arranged to follow the lorry we [Caz & Amy] had organised back to our farm, they failed to do so and have not been in contact since.
When he first came to us he was a little bit wild and untrusting to humans, but you could'nt blame him, as his owners had taken him off the side of the mountain that morning tried to halter brake, mouth and back him while at the sales, as you can imagine that all went wrong.
After:
During his first night with us, he was left in a field at our neighbours farm. A couple of hours later [1am] our neighbours [mairion & Lin] came over to tell us that he had broken out of the field! jumped a gate!and was in the field next to the barn where his mares were kept.

So our neighbours said we could keep him in the side compartment of their barn, but unfortunatly it was missing part of a wall (as it was not ment to hold horses, but used for storing equipment). So we began building a wall made from 2x4 and sheets of wood (it sounds unsuitable, but at that time in the morning we would have been unable to see any materials even with a torch) so we concentrated on providing strength to the beams and blocking off any gaps in the wall where he could injure him self or dislodge any of the structure. Unfortunatly we found that the double doors on the extension could only be locked from the inside, so we had to leave the last panel off to allow us access. After a long time persuading him to come to the barn he was still refusing to go into the stable, so Gareth [rescue] and Calum [volunteer]-(who was also afraid of horses) picked his backend up and slid him into the stable. Once we had checked to make sure he could not injure him self and that everything was fine we returned home.
But thats not all...
Later on the next morning we found that he had infact escaped again

Where we had left an opening to gain access into the area where he was kept, he had placed his neck in between the bottom and middle beam and used the strength in his neck to snap the middle beam off! He then jumped through a gap of about 3 foot, jumped another gate and fence, then went through an electric fence to be found in the field with our mare and two foals.
While he was being kept an eye on, the rest of us set about reinforcing and rebuilding the wall using thicker and stronger materials (long story short it worked).
These days
he is happy and safe on our farm, and has recently been gelded and fully halter broken. In a weeks time work will begin with braking him and parelli training training him.

(waiting to take a decent picture of him ad he wont stay still for a front shot)
[img]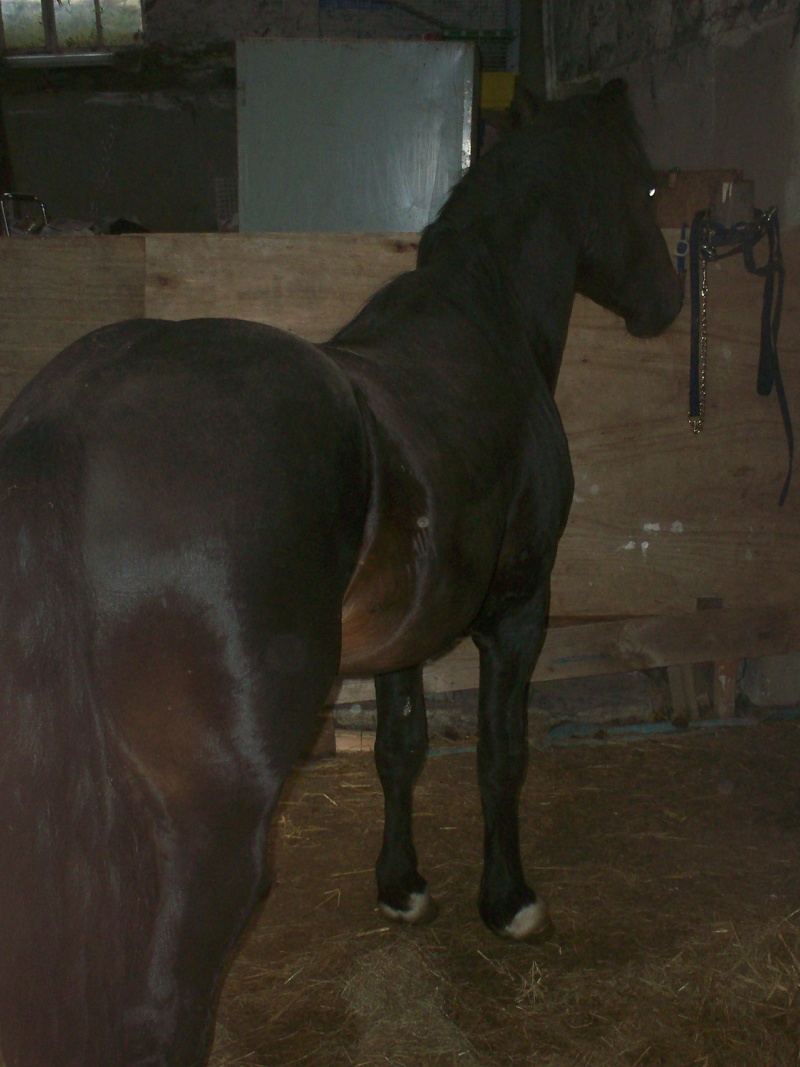 [/img]
Admin




Number of posts

: 25


Registration date :

2008-06-21





Similar topics
---
Permissions in this forum:
You
cannot
reply to topics in this forum