Jo-jo -

Honorary Bunny Hero

Jo-jo is a true star and permanent fixture at South Wales Animal Rescue. I first met her when I was looking for a house-rabbit. She's a friendly, gentle dog. She'd have to be, living at a rescue. But when one of HER rabbits finds a home, she gets upset. She howls and whines so much you'd think they were her babies.
And perhaps, for Jo-jo, they are.
You see, Jo-jo's always lived around rabbits. Lots of rabbits. She's used to them running past her in the kitchen, she's used to them watching her from their runs or their hutches. But nothing prepares you for the sight of Jo-jo allowing herself to be ousted from her basket by one of her bunnies. She lies on the floor, watching over her as the bunny dozes in comfort.
But I've saved the best till last.
Jo-jo saved one of her bunnies in dramatic fashion. A fight broke out between a pair of bonded rabbits, and Jo-jo flicked open the hutch-door's bolt and placed her head between the fighting rabbits. She stayed there until somebody came, attracted by the commotion. At first it was thought that the hutch door had been left open but as the rabbits were extracted and the door was closed, Jo-jo demonstrated her new skill by nudging the bolt and re-opening the door.
She deserves a Honorary Bunny Hero award.


Recently participated in a local dog show at a festival. Even though it was raining all day and she was soaking and had mud here and there, she still won:
1st for best non-pedigree (even though she has pedigree papers for GSD, but she's obviously a mix)
1st for Dog most like its owner (even though she was entered by one of our volunteers)
2nd for Best veteran over 7 (won by our other resident dog Pommie)
3rd for Best Pair (JoJo and Louis)
3rd for Judges Choice (Won by one of our volunteers)
Special for (can't quite remeber what that was for)
[img]
[/img]
[img]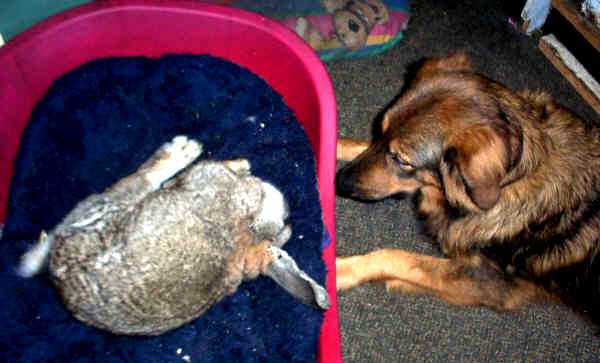 [/img]
Admin




Number of posts

: 25


Registration date :

2008-06-21




---
Permissions in this forum:
You
cannot
reply to topics in this forum